Industrial Cleaning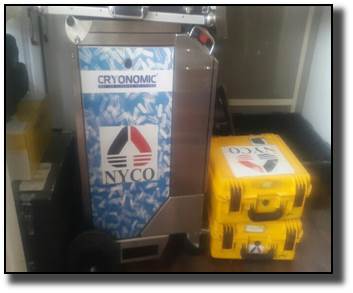 1. INTRODUCTION
NYCO was established as one group companies under the name of NYCO GROUP in Basra, by Iraqis technocrats who had been previously involved in construction, Fabrication, Inspection Works during their respective employment at the ministries of Oil, Industry and Electricity. The company was formed with a view of addressing the needs of the "Iraqi Future" and in an attempt by the owners to contribute to the Rebuilding of Iraq program.
Wedealwithourcustomersinclearandtransparentwayandourcommitmenttosavetheinformationsecretlyandofferingservicesinthebestformmakeoneofthecompaniesthatdevelopcontinuously, it makes our confident increase especially throughout our customer's sat is faction for our efforts.
NYCO iscertifiedISO9001:2008fromTUV–NORD (Germany).
As part of company plan for improving the company performance by increasing the services providing, and due to Iraqi demand market about Preparation Works for Cleaning & maintenance at Oil & Gas Plants (Vessels, Tanks, Reactors, Heat Exchangers, E&I Equipment and Piping) and at Power Plant (Transformers, Generators, Turbine, Pumps). This department has been established in the company since two years.
2. Services
2.1 Preparation Works for Maintenance & Cleaning at Oil & Gas Plants
2.2 Dismantling Works
2. 3 Rope access
2.4 Abrasive Blasting (Sand & Grit Blasting)
2.5 Hydro blasting
2.6 Hydro jetting Cleaning
2.7 Chemical Cleaning
2.8 Dry Ice Cleaning
2.1 Preparation Works for Maintenance at Power, Oil & Gas Plants Equipment
Erection, inspection & dismantling of Scaffolding, by utilizing brand new scaffolding and certified people for erecting and inspection of scaffolding. We are providing also Rope Access Certified Technicians (IRATA).
Dismantling, Re-installing& Hook-up Works of all kind of vassals, equipment internals, oil tanks, skids, piping, rotary equipment by using non-sparking tools (hydraulic and pneumatic ).
Dismantling, Re-installing & Hook-up Works of all kind of Transformers, Generators, Turbine. Providing air ventilation and recalculating EX fans and hoses Provision of LED EX (explosion proof ) lighting Provision of personal protection Equipment PPE.
2.2 Dismantling Works
Normally as part of maintenance/ cleaning procedures, dismantling works for some part should be started after completion of preparation works.
Only certified technician will be utilized for this works under direct supervision of qualified supervisor which they have experience more than 10 years in oil & gas fields.
Only non-sparking tools will be utilized during dismantling works.
Every technician will carry Gas detector in his pocket during the works.
In case of confined space, all HSE roles for confined space will be applied as OSHA standards.
Vacuum truck will be ready at site in case of any oil leak.
Disconnecting of any E&I connection will start first, disconnecting process will be start after checking the as-built drawing and writing all the tag numbers for cables.
In case of piping cutting required, only cold cutting technology will be applied by qualified pipe fitter and by using cold pipes cutting machine.
2.3 Rope access
In some cases, reaching to some areas in the equipment is very difficult (due to height or space, … etc.), therefore needing of technician using ropes to reach to this area is very important. NYCO Group has especial team (IRATA Level III Supervisor) of technicians who have certification in the roping works.
Rope access is a form of work positioning, initially developed from techniques used in climbing and caving, which applies practical rope work to allow workers to access difficult-to-reach locations without the use of scaffolding ,cradles or an aerial work platform.
Rope access technicians descend, ascend, and traverse ropes for access and work while suspended by their harness. Sometimes a work seat may be used. The support of the rope is intended to eliminate the likelihood of a fall altogether. Rope access technicians use a back-up fall arrest system for the unlikely failure of their primary means of support. This redundancy system is usually achieved by using two ropes - a working line and a safety line.